Janome Atelier 5 Review
Introduction
This Janome Atelier 5 review will give you all the info on the latest from Janome's computerised sewing machines. The idea behind the design of this machine is to make it suitable for all your sewing needs. There are 3 optional kits you can purchase depending on what you use the machine for, quilting, home furnishings and fashion sewing. It comes with that all-important extra throat and added arm space perfect for larger projects. Let's take a closer look and see if it's worth the price tab.
Functions and Features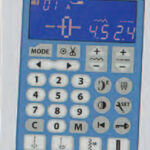 The Atelier 5 is fully computerised and can memorise combinations of your stitch and alphabet designs. The video below shows the memory function in action.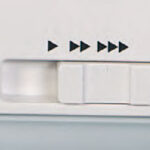 The Maximum Speed Controller lets you set the speed for comfortable sewing. The easy to use slider allows you to easily set a slower speed for more intricate sewing such as applique and a fast speed for straight stitching. Lowest speed is 60 spm and the fastest is 100spm.
A programmable needle down/up feature sets the needle to stop in the up or down position. You can set it in the down position for free motion embroidery and for easy pivoting on corners.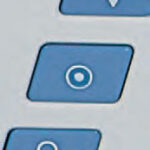 The lock stitch button means you don't have to use the reverse stitch for securing the ends of the stitch. A press of the button and your ends are secured.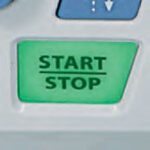 You can sew without using the foot pedal with the start/stop button. An exclusive feature to Janome is the speed control at the start and end of your sewing. Press and hold to accelerate slowly, press and hold to slow down, then release to stop.
The Janome Atelier has a generous 170 built-in stitches including the alphabet and numeric stitches. The width (up to 9mm and length (up to 5mm) of the stitches are variable and there are also 10 buttonhole style.
The lift up lid gives convenient access to all the stitches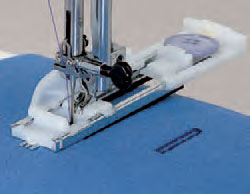 The buttonholes use an automatic, one-step process. Using a special foot the button is placed into the gauge and the machine's sensor creates the perfect buttonhole. The included 10 buttonhole styles go up to 9mm wide
A button is placed into the gauge of a special foot for buttonhole formation. The foot works with a sensor on the machine to create a perfectly-sized buttonhole. This creates quick, easy buttonholes of an accurate size for the button of choice. 10 built-in buttonholes, including a 9mm wide style.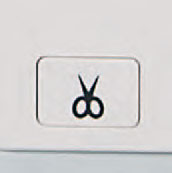 Your thread cutting is done by the simple push of a button. The auto thread cutter feature is conveniently placed in front of you, no need to reach for the scissors!
One of the most useful features on a sewing machine for me is an automatic tension system.  When selected the tension is adjusted based on the fabric thickness, great for switching between layers and fabric types. If required, you can set your own tension using the tension dial.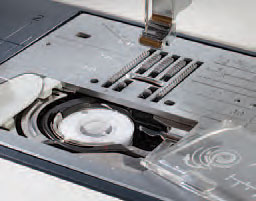 The easy set in bobbin case and cover also features a special design where you don't need to pull the thread tails up and through when you're threading the machine. It has built in cutting blades for trimming the thread.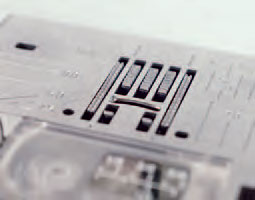 This model/easyazon_link] comes with a unique 7 piece feed dog system called the "superior Feed system Plus (sFs+)." This feature ensures that the feed dogs always maintain contact with your fabric as it stays parallel when moving up and down. You can use the drop feed function when doing free motion quilting or embroidery.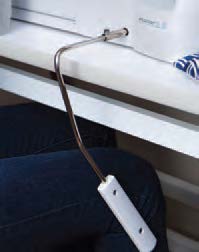 The presser foot can be controlled with the conveniently placed ergonomic knee lift. This means you can keep your hands on your project while raising the presser foot, great for quilting and applique work.
There is also an adjustable foot pressure function, perfect for using with different fabric types and layers.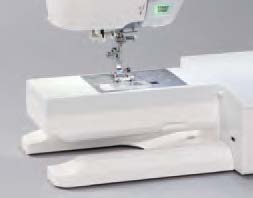 The free arm feature lets you easily sew cuffs, trouser legs and tubular shapes.
Because the Janome Atelier 5 comes with a horizontal full rotary hook bobbin, you no longer need to worry about the thread jamming. The clear cover lets you see when the bobbin thread is running low.
Another unique feature from Janome is the One Step™ Plate Converter. There are 2 plates included as standard accessories with this model, the normal straight stitch plate and the enhanced stitch plate. The enhanced stitch plate allows you to easily sew a small 1/4 seam. No screwdrivers are required and the internal sensor means you don't have to worry about breaking a needle.
There are a whopping 91 needle positions with the Atelier, allowing for really fine adjustments in your decorative stitch.
No more headaches from working in dull light with the 6 ultra bright LED lights! These lights mean all areas of your work space are well lit.
The ultra large work space 220mm x 310mm (8.70" x12.25") with 210mm (8.25") on the right of the needle, plenty of room for any project. It's unusual to have such a large work area in this class of machine.
Included Accessories
Lint brush
Seam ripper
Screwdriver
Knee lifter
Instructional DVD
Hard Cover
Instruction book
Standard foot
Rolled Hem Foot
Zipper foot
Satin stitch foot
Blind hem foot
Overcast foot
¼" Seam foot
Darning foot
Auto buttonhole foot
Even feed foot
Button sewing foot
Quilting guide bar
Spool holder
Straight stitch needle plate
Touch panel stylus
Spool holder – large
Spool holder – small
Power Cable
Other Information: 
Weight – 16KGs,
Dimensions – 52cm x 32cm
2 years manufacturers warranty
Using the Janome Atelier 5
The video below shows you the Atelier in action. You'll also get a better idea of the size of the machine and how much space you would need for it in your workroom.
I don't like
There's isn't much I don't like but think [easyazon_link identifier="B00OLNM9WY" locale="UK" tag="upcybabyclo00-21"] could have done better with the feet, which are plastic. I would have like  to have seen quality metal ones on a machine in this price range. I'm not a fan of plastic bobbins either, but the machine seems to run smoothly enough with them. It's too bulky to be portable so you won't taking this out and about to sewing groups and friend's houses.
I like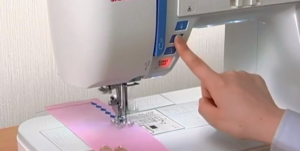 There's a lot to like about this machine, it's loaded with features and Janome has put great thought into the button placements for ease of use and the location of the ergonomic knee lift.
Even though this is a large machine all areas are well lit due to the 5 LED lights. I also like the unique 7 dog feed system, great if you like experimenting with of different fabrics. I haven't seen the One Step™ Plate Converter system before and like this addition, much easier to get those tiny seams straight! The 3 optional kits make it a versatile machine.
I haven't seen the One Step™ Plate Converter system before and like this addition, much easier to get those tiny seams straight! The 3 optional kits make it a versatile machine.
Conclusion
This is a sturdy well built machine with some great features unique to Janome. Janome are well known for building quality machines and the Janome Atelier 5 is no exception. It's in the higher price bracket but the build reflects that. If it's out of your price range you might want to look at the Brother cs6000i Computerized Sewing Machine.