A few weeks ago I picked up some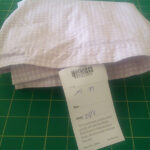 bedding at a charity shop, bargain at £1.99, loads of fabric in there with very little unpicking to do. I'll be able to get more than 1 outfit out of the fabric depending on what I make. I thought I could make an upcycled baby outfit for the summer with this bedding.

Tip: Keep your eyes open for bargain rails in charity shops. They often have garments you would never wear but nice re-usable fabric
Which Pattern
I used Burda kids pattern 9437 for the trousers and suntop and McCalls M6575 for the hat, not beginners patterns but easy to do. My new overlocker sewing machine (review here) makes things much simpler and neater! The Burda patterns were on half price sale so another bargain there! The Mcalls pattern had so many different options for both boys and girls. The Burda pattern could be adapted quite easily as it's a simple shape.

The BurdaStyle Website
is a great resource for sewers from beginners to advanced and they have a special offer on seminars at the moment, 30% off with the code NSM30, BARGAIN!     
Making the Outfit  

                                             
The whole outfit took about 8hrs total over a few days, once I get used to my new Brother overlocker sewing machine (did I mention I have a new overlocker!?) this will speed up. The pattern was fairly easy to follow but if you're just starting to use patterns check out my guide on how to read patterns.
I did the 18mths size but I've noticed the Burda patterns make up quite large so I reckon it's more likely to fit a 2 yr old. The hat was quite fiddly to make, sewing the hat rim to the crown was trickier than I thought. I did managed to achieve it without gettting any puckers though. There was nothing in the instructions about the best way to do this so I Googled for tips. I think I'll baste and sew next time, rather than go straight from pinning to sewing.

I like the way the dress ties at the top, makes it a great dress for on the beach. I don't have a toddler to model the outfit yet so the photos don't do it justice, it really is quite pretty!

So there it is, how to make an upcycled baby outfit using charity shop bedding, best of all it only cost pennies to make!