With the darker nights coming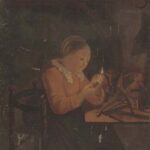 in it's time to start switching the inside lights on. Now I don't know about you but I struggle to see with electric light when I'm sewing or knitting. I've seen magnifier lamps in workshops and I've seen my son use one, just never thought about it being useful for crafting.
As I always do I went off to do some research and discovered there's a lot more to magnifier lamps than meets the eye! With different prices, sizes, shapes and strengths choosing the right one can get confusing.
Types of Magnifier Lamps:
Magnifying desk lamp

3 in 1 magnifying lamp

Floor lamp

Flexible

Hands free

Various diameters

Different zoom strengths
Narrowing down the choice:
Looking at the different types allowed me to narrow my search down. I needed to think about what I do when I'm sewing/preparing to sew or knitting.
I sit at a table

I use both hands

Need the lamp to be flexible

When I'm knitting I sit in an armchair so a mutipurpose  lamp would suit my purpose

A tabletop lamp would also work if I placed it on the coffee table beside me when I'm knitting.

It needed to be a magnifier lamp
Because I don't have a dedicated craft room I needed the light to blend in with the decor (I dont want much do I!). In my searches the name that kept cropping up was PURElite, always with excellent reviews. They do a wide range of different magnifier lamps including the types I've listed above.
The one which really caught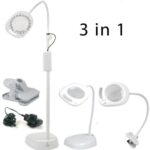 my eye was the PURElite 3 in 1 Magnifying Lamp
It fulfilled all my main criteria.
It converts from a floor lamp, to a table lamp or clip on lamp

21 LED lights for maximum brightness

15cm optical magnifying glass lens with 2x magnification

Flexible neck so I could position it easily


Mains or battery operated

Excellent customer reviews

Aesthetically pleasing
Where to buy:
I found this lamp in 2 of the online stores I normally use:
Now on the face of it StitchCraftCreate looks like a better deal but I noticed that Amazon had a special deal on. If you purchase a the 3 in 1 magnifier lamp and then add 2-in-1 Hands Free LED Magnifierand Magnifying reading vision aid you get a special deal price!
Conclusion:
There were many magnifier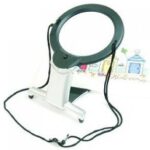 lamps to choose from, I decided to go with the special deal from Amazon. The hands-free magnifier swung it as I often do close up work with dark thread on dark fabric, hard to see even with 20/20 vision!
Click here to buy the 3 in 1 Purelight
HAPPY SEWING!