Compact Sewing Machine
 

Who is it suitable for?
My friend is a complete sewing novice and wanted a basic compact sewing machine on a very low budget so bought this one.
It is what it says on the box, a basic machine suitable for beginners or, if you want a portable sewing machine to take to classes, a sewing group or friends house.

Functions and Features:
8 stitch patterns.

Can be used with batteries (very nifty!).

Dual speed.

Built in light.

Spool drawer.

Lightweight and compact.

Hand switch or foot pedal.

Thread cutter.
My friend brought the machine to me for some tuition. The last time she used a machine was at school (many moons ago). I gave her the minimum guidance, the best way to find out if a sewing machine is suitable for beginners!

It is very light and easily portable. We ran it from the mains but tried the battery function and it worked just as well on this setting.
She managed to thread it without any help just by following the instructions.  Tensioning can be tricky on some budget sewing machines (Low / High) 8 built-in stitch pattern that don't have automatic tensioning, my friend had no problems.
The light is well angled and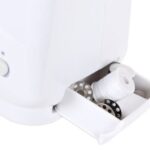 the little storage drawer a handy feature

Her first task was turning up a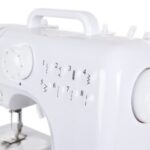 hem which it did very well. The stitches are neat on the slow speed. At this point, my friend became more confident and tried the faster speed with the other stitches. She found this easy with the turn of a dial.
She was delighted with the results and impressed with the results for such a low priced and compact sewing machine.

The Negatives
It was a little noisy.

Not suitable for thicker fabrics.

Conclusion
This compact sewing machine is ideal for someone just starting out and on a tight budget. I liked it and would be happy to buy it as a present for someone.

Buy the Compact Sewing MachineSewing with 8 built-in stitch patterns