As I mentioned on the "About" page, I 've a grandaughter due (6 days and counting UPDATE –  SHE'S ARRIVED!) and I've been making baby clothes for a few months now, hence the title "Here's one I made earlier!" I found a simple pattern for a baby dress to start me off, free here
A clear and concise tutorial and such cute pictures of her twins. I made a couple of dresses with this pattern and plan to do more but upscale in size.
This one was made from a summer skirt that had a light lining.
There wasn't quite enough fabric for sleeves so I used the lining for them. There was just enough left to do a wee hairband, can't wait to see it on new baby!
TIP: Keep all your leftover scraps from projects, great for trims/bows and making hairbands .
The fabric in this one I love! This wasn't stictly upcycled as I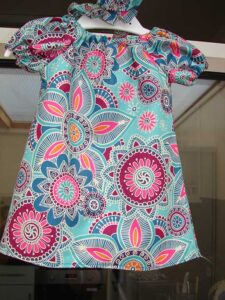 purchased the fabric from Hobbycraft for a festival belt project. There was enough left for the dress and matching headband, size 0-3mths, it's tiny!
I'm going to be doing a tutorial (UPDATE, TUTORIAL HERE) on these baby booties, so quick and simple to do. I purchased a fleece baby blanket (out of bargain bin) for £2.50, plenty of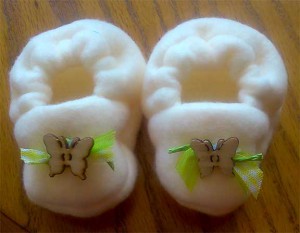 material for lots of booties and another opportunity to upcycle scraps for the decorative bit on the toes. I found it a bit tricky to get the toes evenly rounded on the first pair but was getting better by the second ones, I'll show you how on the tutorial coming soon.
UPDATE…..
I wrote this post a while back, have completed more projects since then and baby Lilly is growing fast Here she is wearing the baby Christmas dress I made out of some Christmas curtain fabric!