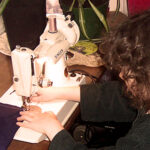 Kids are quite capable of using a sewing machine from an early age, my Granddaughter was 8 when I taught her on my Singer Featherweight! It's hard to find a suitable sewing machine for kids that actually sews effectively but I've managed to find 2, both on a special offer, perfect for a kids Christmas or birthday present.
Janome Sew Mini 140M Sewing Machine
Website: Hobbycraft
Price: £49
Features
8 built in stitches: Straight and Zigzag for general sewing tasks.

Create Buttonholes: Easy to do with the adjustable zigzag stitch.

Single selector dial: Easy for children to understand and use.

Adjustable tension: There is a tension dial for fine tuning stitches.
Portable: Very lightweight at only 2.5kg. Easy to take out, set up and put away, great for kids who don't want to wait for your help.
Reverse stitching: Lock off seam ends by simply depressing the reverse button.

Free arm: For those fiddly areas like cuffs or trouser bottoms.

Dimensions: Size (H)23cm, (W)27cm, (D)13cm, neat and portable.
This nifty little machine comes complete with two bobbins, a needle, a needle threader, an adapter and an instruction book. It's operated with a single dial making it suitable for kids 8yrs and up. It can be a little noisy but for the price it's a good buy.

---
Website: AMAZON
Price: £50
Features
12 Built in stitch patterns: Simple to use for general sewing.

Reverse stitch: Great for finishing off seams.

Automatic thread rewind: Easy to rewind the thread.

Includes 200 piece sewing kit with carry case: Great if you're just starting out and don't have any sewing accessories.

Includes nylon storage bag for machine: Useful for keeping the machine protected and clean.

Includes a drawer: handy for storing bobbins and essential tools.

Built in sewing light: makes it easier to keep sewing lines on track.

Built in thread cutter: handy especially if scissors are out of reach.

Size: 27 cm x 11 cm x 26 cm: Compact for easy transport.

Weight: 1.9 kg: Lightweight for portability.

A cute girly pink machine which is suitable for beginners. This sewing machine for kids is great for beginners. It includes a sewing Bundle comprising of 200 pieces, all the essentials to help you get started. The accessories come in a neat carry case plus you get a handy storage bag for the machine.
Conclusion
These are both useful machines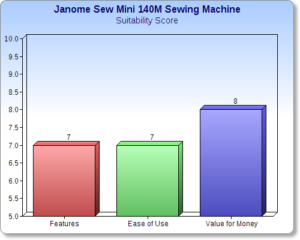 and easy for kids to use. The Janome would be my 1st choice due to the price point and Amazon customer reviews.
The Beldray is a good deal with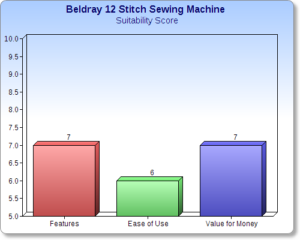 the extra accessories and the pink colour is cute but it's not as robust as the Janome.

The comparison charts and reviews will help you make your own mind up which kids sewing machine to choose.
You can buy either one by clicking the links below
Janome Sew Mini 140M Sewing Machine
Beldray 12 Stitch Sewing Machine with Accessories, Pink
HAPPY SEWING!