With any upcyling you want to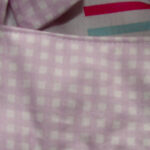 add those wee extra touches that finish the garment off. I'm a great fan of top stitching with a sewing machine, yes it take a little more thread and time but worth in the end, it just gives that extra bit of finish to your upcycled project
What is Top Stitching?
If you've never heard of top
stitching it's a sewing technique that can be used in 2 ways. You can use it round edges such as necklines and hems with a straight stitch. It'll also help facings to stay in place and gives a nice crisp edge like the dresses here and a pretty summer outfit made a few weeks ago.
Ways to use Top Stitching
If you make a dress with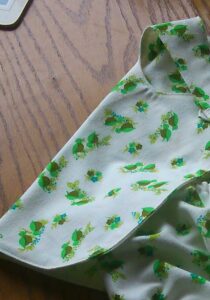 plain fabric you can top stitch it with different coloured thread, it makes a very effective embellishment.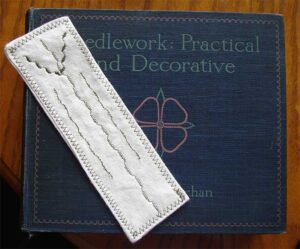 The other way is to use it is as a decorative stitching which shows and is very effective using fancy thread or with a decorative stitch. This is the first thing I made when trying out the fancy stitches on my vintage Bernina sewing machine (more about that later). The bookmark was very easy to make with some scrap fabric left from a project (more upcycling!) and a great wee gift to pop in someone's stocking. You can see how I made the bookmark here.
Tip: If your machine doesn't do fancy stitches use different coloured thread and zig zag to create nice effects.
If you can sew a neat hand stitch then this is another way to get that nice crisp finish. You would use the back stitch listed in the basic sewing stitches article here.
Top stitching with a sewing machine is one of the quickest and most effective ways of finishing off your garments.