I don't know how to patchwork quilt so take this journey with me and we'll work together to create a patchwork pram quilt. I have another Grandbaby on the way and thought this would make a great gift. There are plenty of tutorials and advice, I've already done my research, and am ready to get started!

I'm going to do this 'How to patchwork quilt' tutorial in 3 parts. This will give us time to complete each part before moving onto the next.
I have the materials that I need having taken advantage of the special offer from Hobbycraft (see here) and buying the half price fat quarters (Fat quarters are usually 56cm wide x 50cm, (22 inches x 18 inches)). I'm using an unwanted quilt cover for the backing and some of the patchwork squares.
What is a Patchwork Quilt?
A quilt is described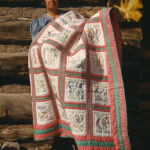 as being a type of blanket composed of three layers. A top layer, a layer of batting or wadding in the middle and a fabric back. Quilting is where the layers are stitched together with either simple or very elaborate patterns. (Image "Russellquiltera" by Russell Lee Courtesy of Wikipedia)

Patchwork is described as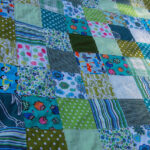 needlework that involves sewing geometric pieces of fabric together to form a large piece. Generally the larger piece is based on repeating patterns built up with the fabric shapes. The simplest form is squares, which you can see in this image.
So, a patchwork quilt is using the pieced patchwork to form the top layer of your quilt.
Of course, there is much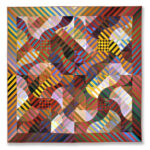 more to this kind of sewing. There are some beautiful examples like the picture on the right. ("Korea-Joseon-Bojagi-01" by by angela n.)
I'm keeping it simple for my first attempt by using a basic square patchwork.
Lets get started.
Based on an existing pram cover I've decided to make my pram quilt 61cm x 81.4cm (24″ x 32″) with each square being 10cm (4″)
If I've done my calculations correctly that means I'll need 48 squares. There'll need to be a seam allowance added so I'll add 1.27cm (1/2″) to each square.
Materials.
A piece 61cm x 81.4cm (24″ x 32″) for the backing.

A piece of wadding/batting 61cm x 81.4cm((24″ x 32″).

Colourful fabric for cutting the squares. I'm using two of the fat quarters mentioned earlier plus a one fat quarter cut from the backing. So that's three fat quarters.


Rotary cutter and self-healing mat (optional, you can use scissors).
Instructions

.

The next step is vey important; IRON YOUR FABRIC! For accuracy when sewing the squares together this needs to be done. You've cut out your backing and wadding piece so now it's time to cut out the squares. There are special patchwork and quilting rulers for this, like this one here Sew-Easy Patchwork Quilting Ruler 24×6-1/2in
. I don't have one of these so I'm going to mark out the squares with tailors chalk and a mitred ruler.
Lay the three fat quarters on top of each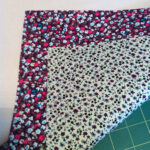 other and mark out 48 x 11.27cm (4.4″)squares.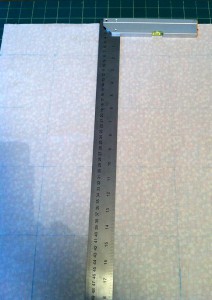 Once you have all the squares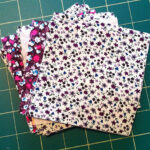 marked out it's time to start cutting. Cut along the long length first. You'll then have 4 separate lots of fabric. Cut along the markings you made earlier to form the squares.
You should now have 48 neatly cut squares ready to start forming the patchwork.
The next step is to lay out the squares in the pattern you want to sew them. That will be covered in Part 2 of How to Patchwork Quilt.
I'm really enjoying learning and will definitely want to do more patchwork quilting. I found this great resource where you can download all the quilting patterns you want – it's FREE!
If you have any questions or comments about this tutorial please comment below or contact me.