The Great British Sewing Bee Book review
Book Title – The Great British Sewing Bee: Sew Your Own Wardrobe
Price – RRP £25 – Special Offer Price from Amazon – £12

Website – AMAZON
Did you watch The Great British Sewing Bee? If you're anything like me you'll have watched it avidly every week, convinced of the winner one week then changing your mind the next! Each week the contestants had a number of tasks to complete and one was to "refashion" a garment. This is the same as upcycling and to me, the main appeal of the programme. The judges May Martin and Patrick Grant were perfect for the job and pulled no punches when assessing the garments. Claudia Winkleman, better known for her role in Strictly Come Dancing, did a great job of hosting The Great British Sewing Bee. So, without further ado……

This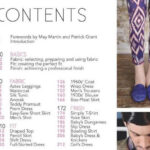 Great British Sewing Bee book is is the one to accompany the second series. If you're struggling for Christmas gift ideas for sewers then I'm sure any recipient would be delighted to receive this as a present.

I had an Amazon voucher left from my birthday just waiting for the perfect product to spend it on. I did my research first as I wanted another sewing book (well you can never have enough) and discovered this gem!

The Positives
This is the second book from the TV series and an improvement on the first one for a number of reasons:
All the projects have a paper pattern to go with them.

Sizes ranging from 8 to 18.

More projects, 24 in total.

The projects include wardrobe essentials from a t shirt and pencil skirt to a wrap dress.
The book also includes clothes for men, home wares and designs for babies and children.
The chapters are ordered in a logical way with lessons on fabric choice and when to use certain fabrics.There are guides for creating buttonholes and inserting zips and the images are clear with step by step instructions.

There is a detailed section for taking your own measurements and adjusting garments to fit, something that many sewers struggle with.
The Negatives
The pattern pieces would be confusing for a beginner; you really need to read the instructions carefully.
There are quite a few spelling mistakes, not vital but annoying none the less.

Conclusion
Opening the book at a random page inspires you to get started with lots of exciting ideas and images. The errors and the way the pattern pieces are set out could make it challenging for beginners. All in all a good buy.
Buy it here and give treat yourself or buy it as a Christmas gift for a friend.
I don't quite rate it 5 stars but it's still a fabulous book. The price is alone is worth it just for the patterns!