We finished How to Patchwork Quilt – Part 2 with the patchwork completed and now it's time to move onto the quilting part.
There are many different ways to make a quilt but, for the purpose of this tutorial I'm doing it the simplest way.
Making the quilt.
A quick note here….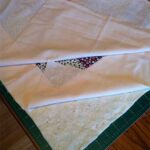 I decided to add a cream strip along the top of the patchwork, (about 15/16 cm), the idea being I can embroider the baby's name in the corner once he/she's born.
Lay the batting/wadding on the bottom, then the patchwork facing up, then the backing.
Sew around 3 sides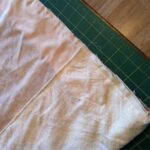 leaving the top open. Trim the seam then turn right sides out leaving the batting in the middle.
Time to get the iron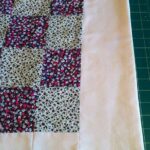 out again! Turn the open edges in and give the quilt a good press. Top stitch all the way around the edge. You can use a contrasting thread colour for this, I kept it white as I don't know whether it's for a boy or girl.
Quilting

.

As with the joining of the pieces, there are many different methods and patterns for the quilting part. You can see some elaborate examples in How to Quilt – Part 1

A lot will depend on the machine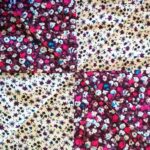 you have and the thickness of the quilt. My sewing machine isn't a quilting machine so I chose a simple straight machine stitch criss-crossed over a 4×4 square. Again I kept the white thread. It's hard to see in the image but hopefully you get the idea.
Another press and finished!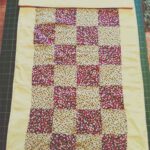 This was the easiest patchwork quilt I could make, it's a new skill for me to learn so always best to start simple! It's not perfect, there are some "wobbly" bits but for a first attempt I'm pleased with it.
Finally.
I enjoyed the process and some of the examples I saw in my research have inspired me to do more. Proper quilting rulers would have made cutting the patchwork pieces easier. If you want to learn more about quilting and the best tools to us, take a look at this site.