A baby taggie blanket can be so expensive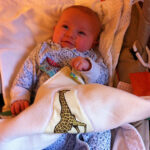 to buy, so why not have a go at making one? These are simple to make and don't take long. A beginning sewer can easily manage this project. Making a taggie blanket uses up your fabric scraps too.
I've explained all the techniques used in this project in previous articles. Just click on the blue links if you need help.

I used microfiber fleece for the main part of the Taggie Blanket. You could also use pretty print cotton fabrics like fat quarters but, if you've read my other tutorials, you know I prefer the microfibre fleece. I've already made three pair of baby booties and a plush baby toy from it. Why? It's very soft and feels so good on baby's (or anyone else's) skin.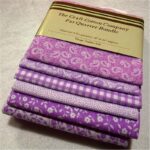 Hobbycraft have some special half price offers on some very pretty fat quarters.

Materials
2 pieces of micro fleece 30cm x 30cm (12″ x 12″)

14 fabric scraps of differing sizes. (I used different textures to make it more tactile)


Thread

Scissors
Making the tags
Once you have all you materials, take the scraps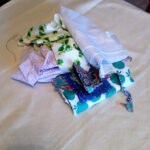 first and cut into rectangles of various sizes. Remember these will be getting folded in half and sewn so allow for this. My largest piece was 10cm x 15cm (4″ x 6″)

Fold each piece in half lengthwise right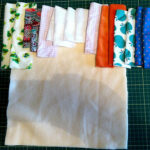 sides together and press till you have 14 tags ready to sew.

Sew two sides leaving one side open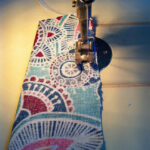 for turning right sides out.

Turn all pieces right side out and press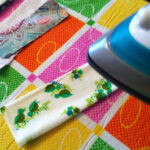 . I pressed the seams to the side but you can press seams to the centre if you prefer.
Putting it together
Fold the tags in half and lay on 1 of the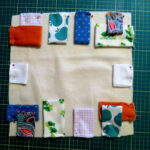 pieces of fleece with the folded ends facing the centre. Space them out as shown in the picture and pin in place.If you're using fabric pin the tags to the right side.

Baste/tack in place, you can find an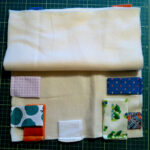 explanation of basting here. Take the second piece of fleece and lay on top of the basted pieces. If you're using print fabric remember to place the right side down.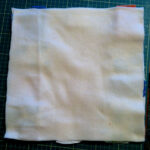 Stitch around all 4 sides leaving a gap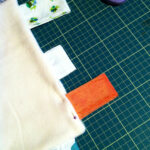 for turning right sides out. Turn right sides out then turn in and pin the open end.
Top stitch around the edge to give a nice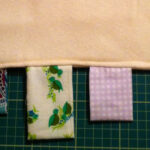 neat finsh.
The fleece centre looked a bit plain to me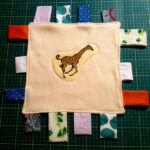 so I thought I'd try my new found applique skills. I had an old charity shop cushion cover with animals printed on it so I cut out the giraffe for this project.
And there we are, I think baby Lilly likes her new taggie blanket!