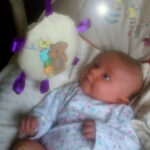 Yesterday I had an idea about making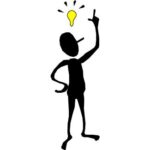 my own plush baby toy but wasn't quite sure how I would implement it. I did a Google search (don't you just love Google!) and found this tutorial.…..DING……the ideas started coming in.
Now I had some fleece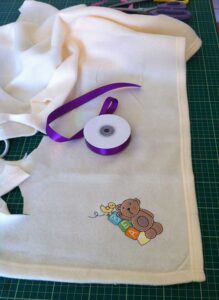 left from the booties I made in a previous post (here) and you'll know by now that I like to get the most out of everything! This bit of fleece started life as a baby blanket, cost £2.45 and I've already made 4 items out of it.
I decided to incorporate the teddy bear embellishment for this one. I also decided to use the purple ribbon I had in my stash but you can use your imagination here, even do different shapes if you wish. I had a cushion I no longer needed so took the stuffing out and used some of that. No purchases needed for this upcycled project!
I used a 6″/15cm bowl and drew around it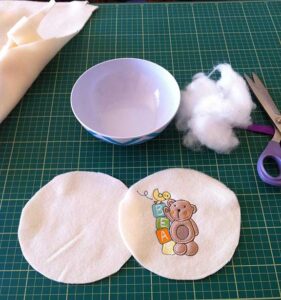 with tailors chalk to cut 2 circles.

The next step is to cut your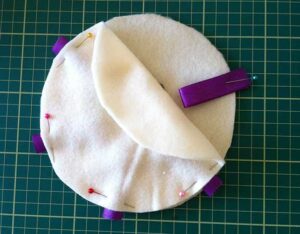 pieces of ribbon, (mine were about 5cm) then fold each piece in half and lay on the bottom piece of the plush fabric. Lay the upper piece right sides in on top then pin making sure you also pin the ribbon. The folded end goes in towards the middle and leave a small bit sticking out over the edge.
Leave a few cm open, this is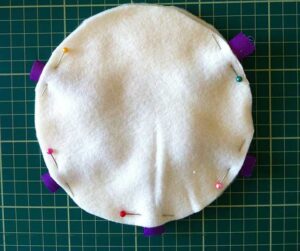 where you'll turn right sides out, put your stuffing in and add the piece of ribbon for hanging.
Carefully sew where you've
pinned it, I put the machine on slow speed when I'm doing anything circular for more control. Remember to leave the end open.
Turn right sides out and stuff,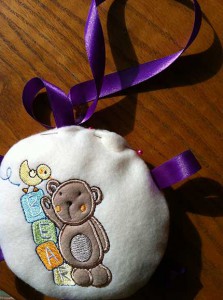 don't stuff it too tight, you want it to feel a bit "squeeshy!" Cut a longer piece of ribbon, length depending on where you're hanging it then, pin into the opening at the top at the same time turn the edges in and pin.
I machine stitched this part but in hindsight it might have been a bit neater hand sewing it. And that's it, a simple plush baby toy which took around 1 hr to make! You could make a few of these with different shapes and colours and hang them from a baby bouncer handle, no need to purchase expensive toys!