In How to Patchwork Quilt – Part 1 we finished by having fabric squares prepared ready for piecing together.
How to Patchwork Quilt Part – 2
Lay out your squares in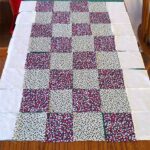 the pattern you want. I decided to put the cream squares down the sides, I liked the look of it better.
We'll sew the squares together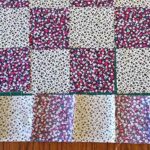 one strip at a time. Take the first 2 squares and sew right sides together, then sew the next square on in the order you laid them out.
Keep adding the squares till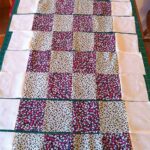 you have the first strip finished. Continue with each row of squares until you have all the rows sewn.
This is where you'll see how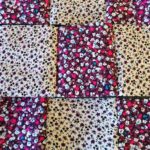 accurate your square cutting was. You can see quite clearly in the picture on the right that my squares weren't all created equally! I unpicked this particular block and cut another square of fabric.
I thought I was being careful and accurate when I cut out the squares so perhaps I need one of those special quilting rulers mentioned in How to Patchwork Quilt – Part 1….
After redoing that strip it was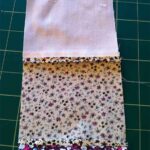 time to trim the seams, switch the iron back on and press them open.

Join the strips.
Pin the strips, right sides
together. I pinned right on the seams to make sure the seams lined up when sewing. (Click on the image to see full size).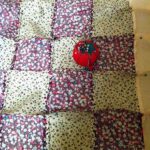 Sew all the strips together trying
to keep the seams aligned. Once you have all the strips sewn, trim and press.
You should now have a complete piece of patchwork!
Keeping the seams aligned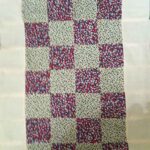 was the most challenging part. I'm sure this is one of those things where practice makes perfect. If you click to see the full size image you can see where my seams aren't aligned perfectly but I'm pleased with what I've achieved so far.
How to Patchwork Quilt – Part 3 will cover making the quilt using the patchwork made in Parts 1 and How to Patchwork Quilt – Part 2. You'll also have the opportunity to disguise mistakes made in the patchwork!
If you've any questions or comments about this tutorial please leave a comment below or contact me, I'd love to hear from you!